Leaving a gift in your Will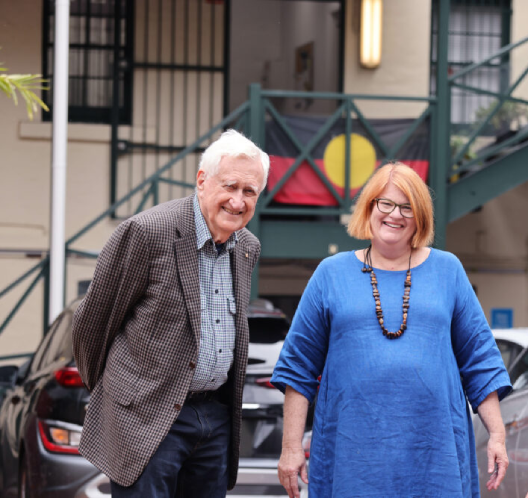 To say that Kevin Rozzoli is loyal is something of an understatement.
He's been on the Board of the Haymarket Foundation almost since the organization began, coming up to 50 years ago. (He's pictured here with CEO Gowan Vyse.)
Initially, he got involved to help out his friend and the organisation's founder Dr Charles Blower with a significant – and successful – application for funding in 1976.
He says the need is as great as ever.
"One of the things that I reflect on, looking back over almost 50 years is how much we've grown – and yet there are things that remain the same," he says. "There's such a demand for our services."
The Haymarket Foundation is a grassroots, secular organization serving the most complex of people experiencing homelessness, people with a combination of mental health, drug and alcohol issues and frequently disability and trauma.
"Every month, I hear quite moving examples of their success," he says. "Our case managers find long-term health and housing outcomes for our residents and other clients."
Our future:
"I'm proud of this organization – and I also want to ensure that it prospers into the future," he says. "That's why I'm leaving a gift in my Will to the Haymarket Foundation, to help continue this vital work after I'm gone."
If you are considering making a Will – the Haymarket Foundation has partnered with Gathered Here, Australia's most trusted online will provider.
You can access a free online Will, with unlimited updates for life.
In it, there will be a chance to leave a lasting legacy – you can choose to leave a gift in your Will to the Haymarket Foundation.
There are other ways of leaving a gift in your Will.
Most people want to look after loved ones, when they write a Will. It is also important to talk with them about your wishes and the reason you might choose to nominate the Haymarket Foundation as a beneficiary.
Gifts in Wills are property or assets given to an individual or organisation in your Will. These bequests, as they are otherwise known, can come in a range of different forms (see below).
WHAT TYPE OF BEQUESTS ARE THERE?
Residuary – the remainder of the Estate after specific gifts have been disbursed.
Percentage – a percentage of the residue or the entire Estate.
Pecuniary – a specific gift of cash.
Specific asset – this could be real estate, shares, bonds or other items of value (works of art, jewellery etc.).
An investment in perpetuity.
We have provided the following suggested wording when including The Haymarket Foundation in your Will, to ensure your wishes are met. You can take this to your solicitor or directly write it into your Will.
"I give to The Haymarket Foundation, a company limited by guarantee, of 137-139 Regent Street, Chippendale NSW 2008 Australia: [the residue of my estate / % of my whole estate / % of the residue of my estate / the specific sum of $ / list specific items or property details ] to be used for its general purposes. I declare that the receipt of the secretary, treasurer or other proper officer of the nominated beneficiary will be a full discharge for my trustee who will not be bound to see its application."
We would love to hear from you. For a confidential conversation, please contact: 
Susi Hamilton, Philanthropy and Communication Manager – 0466 366 900 or susih@haymarket.org.au