Hearing the voices of First Nations people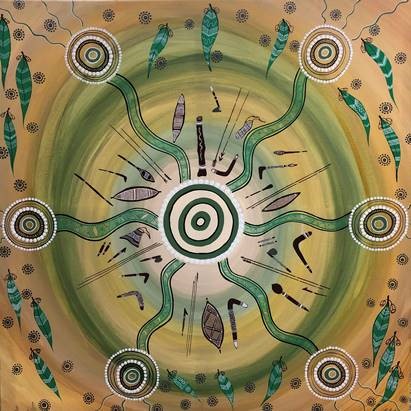 The Haymarket Foundation has a disproportionately high number of Aboriginal and Torres Strait Islanders accessing its services.
Roughly one in four clients identifies as being a First Nations person.
Now the renowned Bourke Street residential rehabilitation program has a fresh focus on cultural inclusion and safety for this group.
Cultural inclusion:
Two Aboriginal consultants have carried out an assessment of the Bourke Street Program, which has been operating for 30 years.
Two Aboriginal staff are employed in the service and a range of work has been carried out including the commissioning of artwork (see image by Wiradjuri artist Kylie Cassidy).
Read the full story about the impact of the work
The work was funded by the NGO Sector Development Grants. They were open to AOD service providers funded by the NSW Ministry of Health to improve access and equity for specific populations and the safety of clients while in treatment. The grant was administered by the Network of Alcohol and other Drugs Agencies (NADA).