The first weeks of 2023: a message from our Chairperson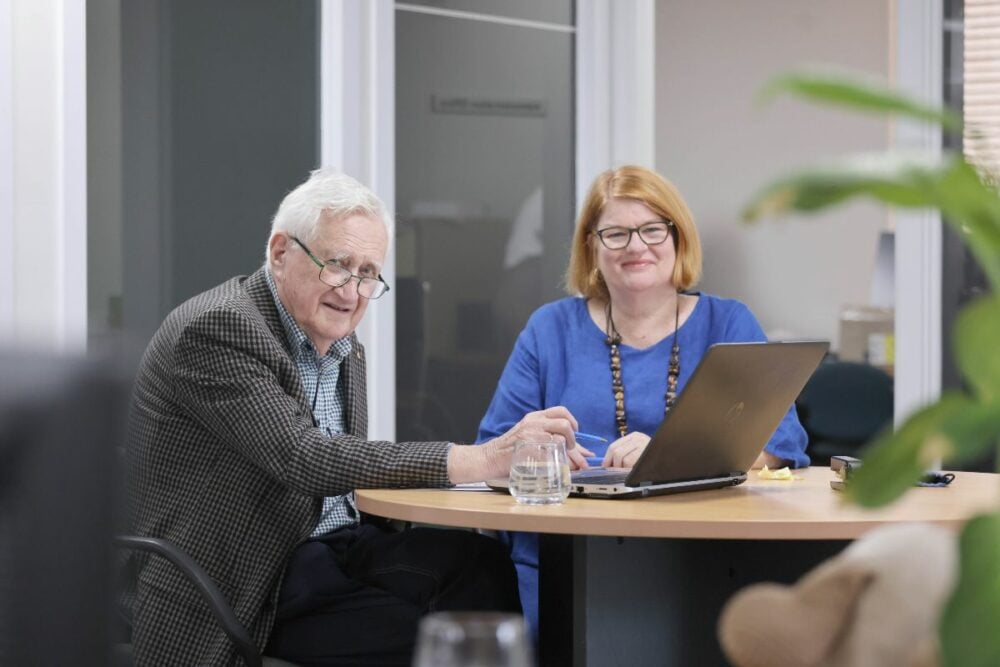 Chairperson Kevin Rozzoli, AM with CEO Gowan Vyse
It's been a relatively quiet start to 2023 at our crisis accommodation in Chippendale.
There was a COVID-19 outbreak in December, forcing many of our residents to once again be put in hotel-style quarantine.
Some of our residents were back on-site for the celebration on Christmas Day – and we made a big effort for those self-isolating.
There was a special meal and thoughtful gifts from neighbours and friends.
I'd also like to extend my thanks to our supporters who gave so generously to our Christmas campaign – we raised over $28,000 in matched gifts.
Sincere thanks also to Maddocks legal firm for the early festive celebration.
A milestone:
It's hard to believe, but next year, we celebrate 50 years since the Haymarket Foundation started – and we will be inviting you to take part in the celebrations.
We'll let you know more, as plans progress, but there will be more on our history and our vision for the future.
We began operating out of a little green caravan in the Haymarket, providing medical help for people experiencing homelessness.
I've been involved with the Haymarket Foundation for almost all of that time.
It began because of a personal connection with the founder, Dr Charles Blower – and I've continued because I deeply believe in what the organization does for people experiencing homelessness and other disadvantage.
Also, I volunteer because I believe that if you can help, you should.
Our history:
One of the things that I reflect on, looking back over almost 50 years is how much we've grown – and yet there are things that are constants.
One in particular is, that the need for what we do is as great as ever.
We began with one service in 1974, we now have nine.
We remain a grassroots, secular organization serving the most complex of people experiencing homelessness, people with a combination of mental health, drug and alcohol issues and frequently disability and trauma.
Our frontline workers are so diligent and care deeply about the work. Many of them have lived experience.
Every month, I hear quite moving examples of their success. They find long-term health and housing outcomes for our residents and other clients.
Our future:
I'm proud of the history of this organization – and I want to ensure that it continues.
That's why I'm leaving a gift in my Will to the Haymarket Foundation, to help continue this vital work after I'm gone.
If you are considering making a Will – the Haymarket Foundation has partnered with Gathered Here, Australia's most trusted online will provider.
You can access a free online Will, with unlimited updates for life.
In it, there will be a chance to leave a lasting legacy – you can choose to leave a gift in your Will to the Haymarket Foundation.
We look forward to developing our programs further in 2023 and to keeping you updated.
Kevin Rozzoli AM,
Chairperson, The Haymarket Foundation