A nurse with a big heart and commitment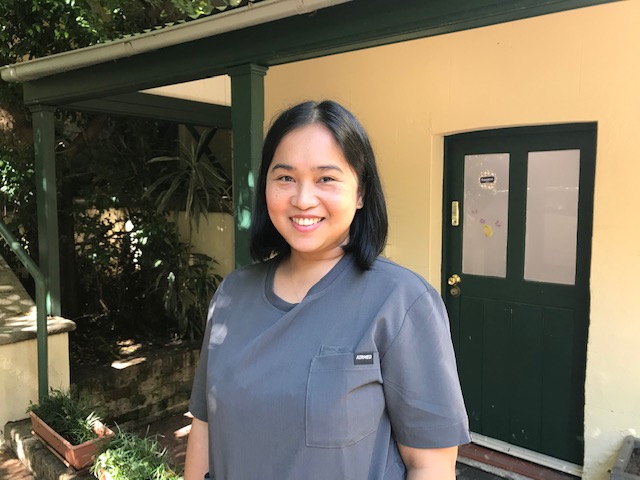 Photo caption: The Haymarket Foundation medical practice's nurse, Joana Atienza
When Joana Atienza moved to Australia from the Philippines eight years ago, she never thought she would find herself working as a nurse again.
"I was burnt out – I had been working with the poorest of the poor in rural areas in the north of the country and knew it was possible to do more for their health, but I couldn't because there were no more resources," she said. "There's no financial support from the government."
A vocation:
She took up other work for a few years in Sydney, but found herself missing health care.
In the middle of her two-year Master of Nursing, the pandemic struck. Upon qualification, she went straight to the frontline at the vaccination centre at Olympic Park and in the Special Health Accommodation.
She also noted people experiencing homelessness were particularly vulnerable.
"When I was working at the Special Health Accommodation, the focus was all medical – particularly on covid," she says. "It was jarring to know that once they were on the streets again, they are not going to be well for long – and they would cycle back to being in the hospital.
"I feel like it was my year. This is what I signed up for – I know the risks," she says. "It's a good way of looking back and telling my kids what I did."
(The pandemic has separated Joana and her husband from their sons, aged 11 and 9, for more than two years. The boys have been living with extended family in the Philippines since Christmas 2019. They have been in touch daily and plan to be reunited in July.)
A dream job:
The Haymarket Foundation's medical practice struck a chord with Joana.
"People experiencing homelessness come here and you can help them stand on their feet," says Joana, the nurse in the service. "You can help with their health needs, but also with their homelessness situation, their domestic abuse – it's not just one area.
"I feel like it's my dream job because of the continuity of care," she says.
Our supporters:
Joana is working in the consulting room established at the Haymarket Foundation's crisis accommodation facility in Chippendale, Sydney.
The service is a social enterprise – and will ultimately grow to operate as a drop-in practice opposite Central Station in Sydney.
The nurses' salary has been generously supported thanks to grants from the Maddocks Foundation and the City of Sydney, which will allow the service to reach scale and commercial viability that much earlier.
"We are so grateful for all of the work that the Haymarket Foundation do for the community and we were so happy to be able to contribute to the salary of the nurse who is helping the most vulnerable people experiencing homelessness," said CEO Maddocks, David Newman.
In addition to improving health, the practice will work towards ending homelessness, by supporting patients to navigate systems which are often inter-related: health and housing.
You can help make a difference with a tax-deductible gift to break the cycle of homelessness and despair. Thank you for your kindness and generosity!