Homelessness in the spotlight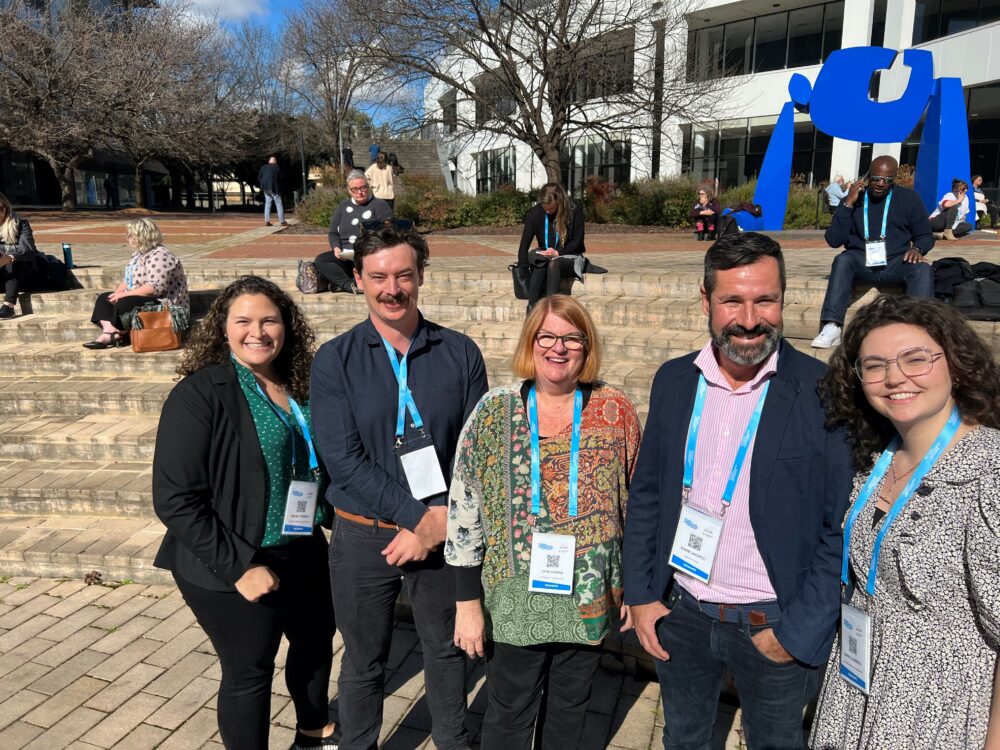 Some bright news: Haymarket Foundation Gowan Vyse (centre) with colleagues (l-r) Belma Torres from the B Miles Women's Foundation, Jon Swain from the City of Sydney, Shane Jakupec from Neami National and Sarah Casserly from the B Miles Women's Foundation. 
Homelessness has had some welcome attention.
At the National Homelessness Conference in Canberra, the Minister for Housing and Homelessness the Hon Julie Collins signalled that the Albanese government will take greater leadership in the area.
The Minister said states won't be left with the job of addressing homelessness, saying "the task of ensuring every Australian has a safe place to call home is not someone else's job."
She confirmed the development of a national housing and homelessness plan and re-affirmed the election promise that 30,000 social and affordable homes would be delivered within the first five years of government.
Advocating for better outcomes:
The Haymarket Foundation's CEO Gowan Vyse went to the Conference and heard from the Minister, representatives from homelessness service organisations and other stakeholders.
"The Haymarket Foundation is a grassroots organization and we are often so busy working with clients that we don't get a chance to take a step back and look at what is happening in the sector," says Gowan Vyse.
"It's important to advocate politically for better outcomes for the people that use our services and it's great to share what we are doing and to learn from others.
"The sector has been calling for more housing and a national housing and homelessness plan for years, so it is wonderful to see this commitment from the federal government," she says.
The conference, hosted by the Australian Housing and Urban Research Institute (AHURI), in partnership with Homelessness Australia came hot on the heels of Homelessness Week (1-7 August).
Homelessness Week:
The focus of Homelessness Week this year was "we need a plan" to properly address the issues driving rising homelessness, and to respond effectively so that homelessness is prevented where possible and quickly resolved when people do lose their home.
The sector called for a national plan to:
Make housing affordable for all
Provide the support people need
Address family violence
A Right to Home forum:
In late July, a forum on non-residents who have fallen into homelessness was co-hosted by the End Street Sleeping Collaboration, refugee services, St Vincent's Health Network and the City of Sydney.
Non-residents including many New Zealanders and refugees do not have access to social security temporary accommodation or social housing and a
The Haymarket Foundation houses a number of non-residents in its crisis accommodation facility in Chippendale – and its work was highlighted at the forum. The event was covered in the Sydney Morning Herald
With no prospects of social housing no access to social security and often no work rights these people face a particularly difficult situation.
For example, one resident of the Haymarket Foundation's crisis accommodation is Deo – he is a political refugee from Burundi, who has lived in Australia for 11 years – the last four years he has stayed with us in Chippendale.
The work with non-residents is unfunded by government. The Foundation works with partner agencies and fundraises to support these individuals.
You can support us by donating here.
Thank you for your kindness and compassion!