People are facing such difficulties this Easter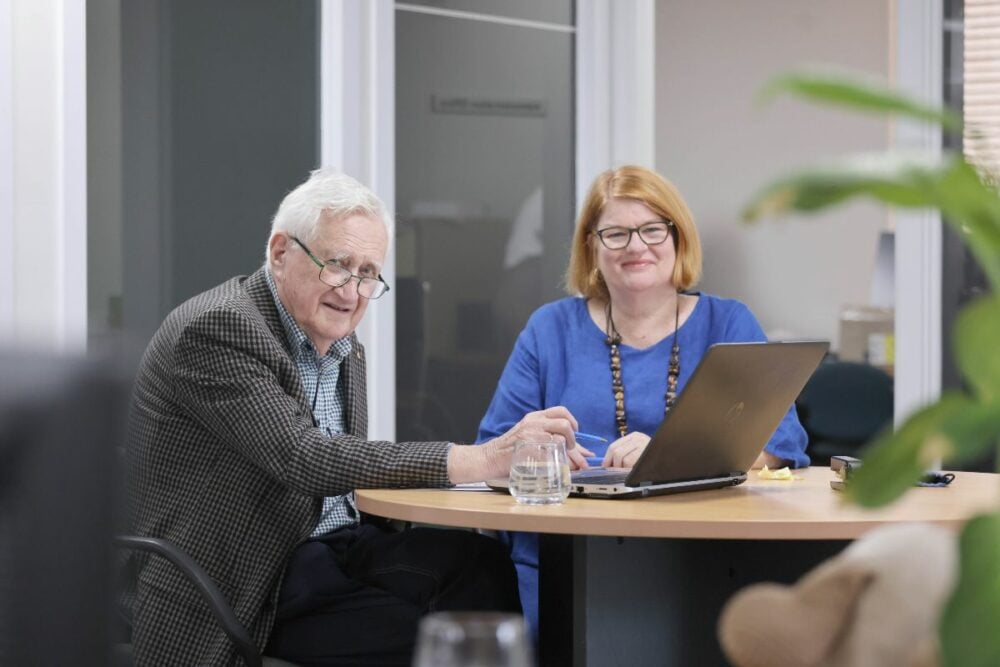 Chairperson Kevin Rozzoli, AM with CEO Gowan Vyse 
I am so grateful for your support of the Haymarket Foundation and our work with people experiencing homelessness.
As the Chairperson of the Foundation, I'm writing to let you know we have now reached a critical point.
Our case managers are reporting more people accessing our services, as homelessness increases across the country.
We remain committed to helping those who have nowhere else to go – including people like Benji*. He wrote a beautiful card, which said:
"I know for a fact, without your support, I would either be in prison, suffering on the street, or even dead. You guys gave me a second chance to build my life here."
Easter is a time of renewal – the promise of a fresh start. Over almost 50 years, the Haymarket Foundation has helped countless people like Benji get back on their feet.
Will you make a generous Easter gift today to help more people like Benji? You can do that safely here – https://www.haymarket.org.au/donate/
The crisis in homelessness and the cost of living pressures are having a snowball effect for a grassroots organisation like ours.
Every day, our frontline workers are serving people with diminishing resources. I'm hoping you can help turn that around.
To keep up with the demand, we urgently need to pay increasing bills.
Our food bills, rent and utilities have all increased significantly. A broken freezer, for example, means the cost to replace that, plus food expenses go up further.
Even with food donations from other charities, we can only keep up with the increasing food and other costs if we have support from generous people in our community.
Your kind gift will help those many, many people in need who seek our services.
Some of our residents stay with us for months – and occasionally, when there are no housing pathways (such as with non-residents) – for years.
Our frontline staff treat people with respect and dignity.
They deal with difficult and stressful situations everyday – but what sustains them is the shared commitment to making a difference to people who have nothing. No family, no support net, no financial resources.
The case managers in our crisis accommodation work around the clock – 365 days a year.
When someone is in trouble, they are there to help, or to provide emergency care.
Your donation today will help us bring meals, care and other support for those who are the most vulnerable.
If you are in a position to, please give what you can this Easter to support those who have nowhere else to go. You can make your tax-deductible gift here – https://www.haymarket.org.au/donate/
Thank you in advance for supporting the work of the Haymarket Foundation in Sydney's CBD.
All the very best for Easter,
Kevin Rozzoli AM
Chairperson, The Haymarket Foundation
PS: All gifts above $2 are tax-deductible. Thank you!
*Benji is not his real name.