Phil's Diner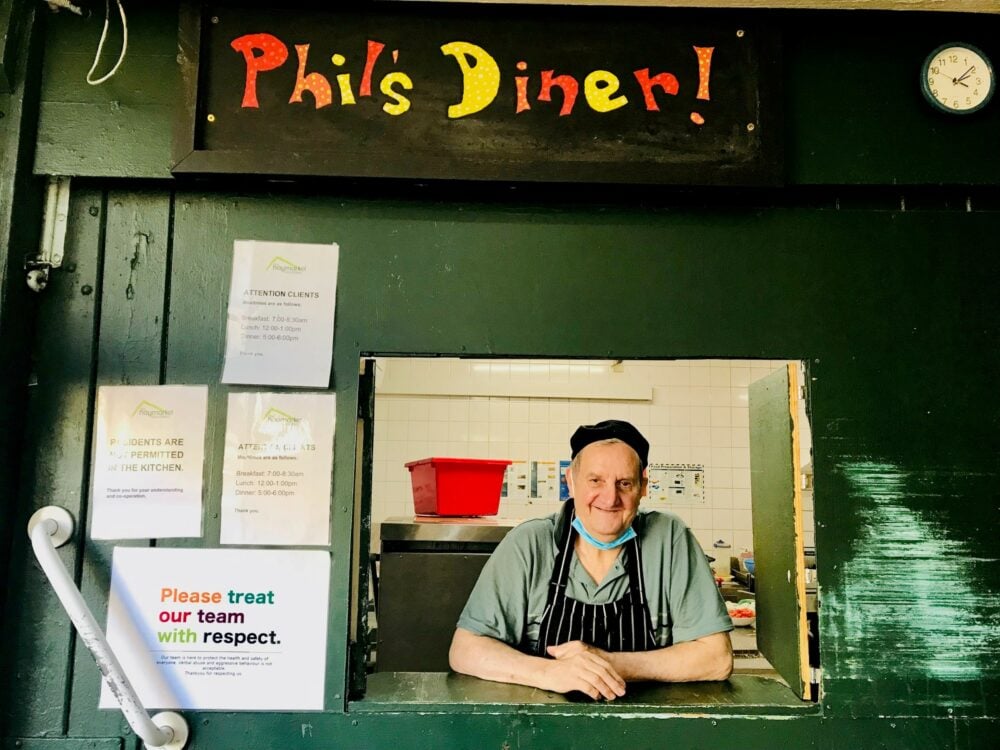 The Haymarket Foundation's kitchen – otherwise known as Phil's Diner – would not be the same without our chef of 17 years, Phil Mitchell.
He is the man behind the hearty roasts, warming casseroles and delicious chicken schnitzels.
Phil is dedicated to bringing good food to people experiencing homelessness who stay at our crisis accommodation facility in Chippendale.
"Residents generally don't like to eat a lot of vegetables, but when they are hidden in a good Bolognese, they often cannot even tell," he laughs.
It's the forty years of cooking that allows Phil to prepare great meals everyone can enjoy.
Originally from Yorkshire, Phil enjoys some traditional English fare, include kidneys, liver, and black pudding.
"Our residents wouldn't like that sort of thing," he notes. "Doing this sort of work you learn to be both a chef and a bit of a counsellor – you need to understand people and what is going on for them."
Phil has worked at other homelessness services and organisations in Sydney including Matthew Talbot Hostel in Woolloomooloo where he was the kitchen supervisor for 13 years.
He came to Sydney 48 years ago in 1974, after a meeting with friends at a pub in Leeds. He liked the sound of Australia, its warm weather and the chance of an adventure – and applied for a visa and three weeks later was approved.
He's only been back to the UK four times since.
"Australia is my home now," he says. "And the Haymarket Foundation is a big part of my story. I like helping the residents, who have often had a tough time."
Phil also makes sure there is minimal food waste.
He loves taking food donations from charities including SecondBite – which helps cut the food bill and improve the diets of residents.
He recently took three weeks' leave – and while staff always loved working with him, they got a whole new level of appreciation filling in for him. It's a tough job getting meals for 20 ready on time – and residents can be unhappy if they are hungry and waiting!
Our new CEO, Gowan Vyse should know – she was dishing up late on a rainy Friday night!
"Phil is such a valued team member. I love popping into chat with Phil and having a laugh, and seeing what he is cooking up for the day," says Gowan. "Every meal that Phil creates is made with thought and care."
Please give generously to help people experiencing homelessness
PS: Any gift over $2 is tax-deductible.
Thank you for your kindness and compassion!