Drop-in service for people experiencing homelessness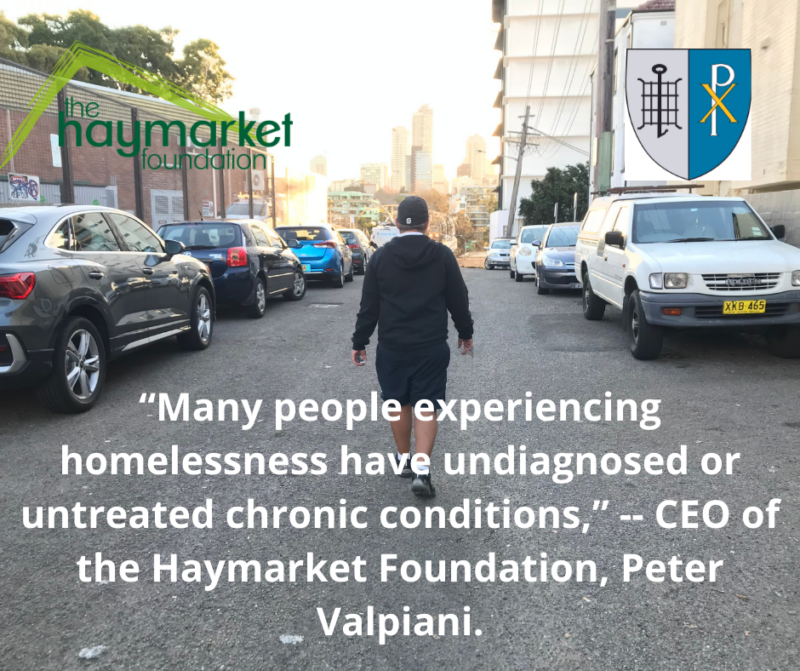 People experiencing or at-risk of homelessness will have access to a unique medical practice specialising in their health needs, in the heart of Sydney's CBD.
In addition to improving health, the practice will work towards ending homelessness, by supporting patients to navigate systems which are often inter-related: health and housing.
The Haymarket Foundation General Practice will be run as a self-sustaining social enterprise, operating out of the St Laurence Centre, with an entrance on Pitt Street, opposite Central Station.
The St Laurence Centre is part of the premises of the Anglican Parish of Christ Church St Laurence. Rent for the Haymarket Foundation's occupancy will be paid by the Christ Church St Laurence Charitable Trust*.
The Haymarket Foundation has committed to a $2.2 million dollar upgrade to the premises, with the first patients expected through the doors in 2022.
"In the Haymarket Foundation's crisis accommodation facilities, 97% of residents have at least one diagnosed chronic illness, with 65% having four or more such conditions," says the CEO of the Haymarket Foundation, Peter Valpiani.
"Despite this, two-thirds don't have a GP," he says.
Currently, there is no dedicated primary healthcare service able to support people regardless of homelessness and/or immigration status or geographical location in Sydney's CBD, leaving many without continuity of care.
When it is fully established, the service will have four GPs providing specialist services that are much needed by people experiencing homelessness including management of mental health, drug and alcohol issues. It will also provide trauma-informed care and other services including pathology.
The Haymarket Foundation General Practice will also work towards ending homelessness, by supporting patients to navigate systems which are often inter-related: the housing and health systems. For example, medical assessments will be easily provided to case managers to help secure social housing, or support can be provided to secure NDIS packages.
"For more than 170 years, Christ Church St Laurence has been supporting the underprivileged, persecuted, and the socially marginalised living in this area of the city – and it has provided shelter and food for many people experiencing homelessness," says Father Daniel Dries. "This commitment is now being expanded through our support of the GP service. We draw inspiration from our patron St Laurence, who is remembered for his work among the poor of Rome in the 3rd century,"
Care will be paid for through the Medicare Benefits Schedule – but access will be provided free to those who do not have a Medicare card, such as asylum seekers and international students.
Health and homelessness:
The need is acute: in the last Census, 13,180 people were experiencing homelessness in the Central and Eastern Sydney Primary Health Network regions, 35% of the NSW total.
There is a close correlation between homelessness and poor health. Yet despite the complexity of their health conditions and the heightened risk of serious illness, disability and premature death, people experiencing homelessness generally do not seek regular medical help.
Additionally, many have undiagnosed health conditions, including mental and physical health, trauma, cognitive impairments and other disabilities which prevent them from accessing services and securing and maintaining safe housing.
"This service will help people get the right diagnosis and management of health conditions – and it may help them find and maintain social or affordable housing as well," says Peter Valpiani.
*The Christ Church St Laurence Charitable Trust was founded to support the charitable objects of the Parish. The founder of the Trust, the late Dr Dianne Houghton, was a doctor who spent much of her career working for the underprivileged in developing countries. She directed the income from the Trust to the Parish because she admired its long record of outreach to the socially marginalised. In applying income from the Trust to cover the Foundation's rent, the Parish is honouring both Dr Houghton's wish for a significant new initiative in support of the underprivileged and also her own work as a doctor.
About the Haymarket Foundation:
The Haymarket Foundation is a local, secular, charitable organisation focused on people experiencing homelessness and other marginalised communities in Sydney.
The Foundation works with people that other services are not able to: those who have co-occurring mental health, alcohol and other drug issues and frequently, lifelong trauma and disability.
There are crisis accommodation facilities and other services for those who are at-risk or experiencing homelessness, plus alcohol and other drug services and primary health services.
About Christ Church St Laurence:
Christ Church St Laurence is located on George Street Sydney, near Central Station. It is a diverse and inclusive inner-city parish. For more than 170 years, the congregation and Church have been committed to the support of the underprivileged, the persecuted and the socially marginalised.
Help the Haymarket Foundation end the cycle of homelessness and disadvantage with your tax-deductible donation: thank you for your kindness and generosity.
Media contact: Susi Hamilton, Philanthropy and Communication Manager, Haymarket Foundation – 0466 366 900