The food enterprise with love at its heart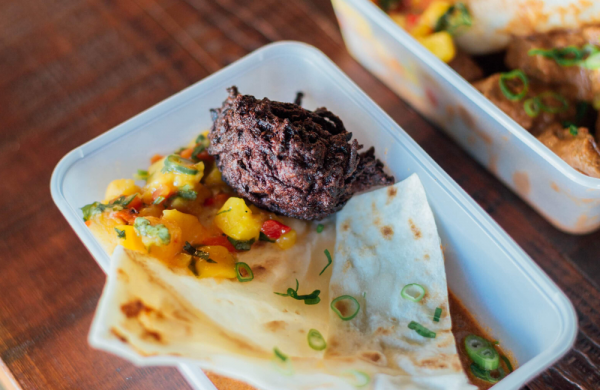 Sydney's inner west social enterprise Colombo Social is giving away even more free meals to those in need, with a new collaboration with the homelessness service the Haymarket Foundation.
During the pandemic, it has given over 22,000 meals to people experiencing homelessness.
Now it's providing an additional 100 meals a week to clients of the Haymarket, who are currently in hotel accommodation, with no access to kitchen facilities.
"We are thrilled to have this support from a business that does more than provide delicious meals – it also works in a real way to help alleviate disadvantage," says Grace Rullis, the Manager of Homelessness Services and Clinical Lead at the Haymarket Foundation.
And the meals, shown here being delivered by caseworkers Tiffany (at left) and Shauna, are being thoroughly enjoyed, with recipients saying they are "tasty" and "beautiful".
"We know that food is a necessity, but it also is a very tangible way of showing care for people," says the founder of Colombo Social Shaun Christie-David.
"We are also pleased to be able to support a local, secular homelessness service provider which is making a difference to the lives of those without a home," he says.
The collaboration is being funded by StreetSmart Australia.
"StreetSmart is proud to be partnering hospitality venues devastated by the pandemic to make thousands of SmartMeals for their local overstretched homeless charities, to help feed some of the most vulnerable in our community," says Geoff Hills, Chief Operations & Fundraising at StreetSmart Australia.
"Everyone deserves a healthy and nutritious meal, and now more than ever during these uncertain times and cold winter months, we want to make sure no one is left hungry," he says.
Each client of the Haymarket receives one hot, nutritious meal per day, which is supplemented with groceries and other meals provided by the Haymarket.