A no-nonsense attitude, with a side-order of humour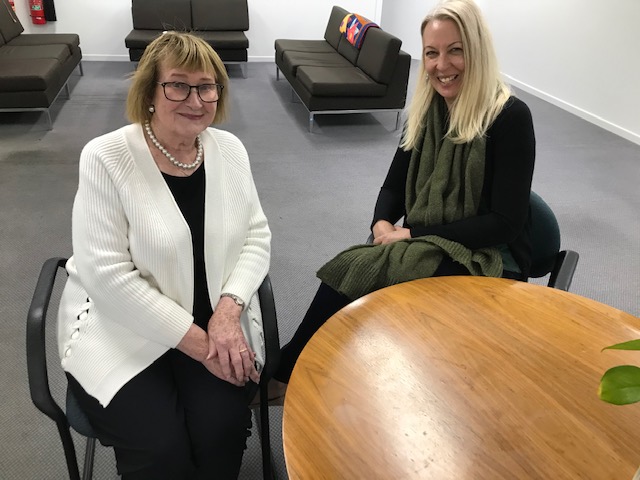 A warm and considered approach: Quality Coordinator Valda Allen (left) with Acting CEO Gabi De Knock
By Acting CEO Gabi De Knock
When I first joined the Haymarket Foundation, like everyone, I was given an induction by Valda Allen.
Compliance and safety were key – but her efficiency, diligence, warmth and courtesy were obvious.
This was before vaccinations were available, so it was a particularly critical time. While leadership was pivotal, Valda has been the operational powerhouse – helping us to both respond quickly and safely to the pandemic and to seize the opportunities created as a result.
She is our Quality Coordinator: a role she does part-time, but which she did full-time (and often more) during the pandemic and in the months leading up to accreditation.
Staff often see her on-site at Chippendale on a Sunday – and when she is off-duty, she often calls to check in with staff to make sure something is clear. She's always in hours earlier than most of us.
Perhaps all of this is due to her background in Critical Care Nursing. She came to The Haymarket Foundation late in life, when she became bored during retirement! Now, 15 years later, she is still with us.
While a leadership team was assembled quickly to respond to the pandemic, it was Valda's background and understanding of clinical matters which helped drive a lot of the decision-making, including reviewing infection control practices for the various case scenarios involved in the care of our clients and training staff in the use of PPE.
For example, she was abundantly clear that while we should continue to remain open, we should not take any new clients. This was based on clear ethical and legal principles: Our primary duty of care was to the clients already in in our service.
Her decisiveness and hard work is legendary. Other trademarks are her modesty and kindness. She pays tribute to others and writes the most generous and warm notes of thanks and public acknowledgement to staff, supporters, family and friends.
If you are lucky enough to know her, you might hear some remarkable stories. I am fortunate enough to sit next to her and hear fascinating anecdotes about her life and people she has met, and marvel at her amazing work ethic.
She grew up in country NSW and had never seen the ocean until she moved to Sydney as a young nurse at 18.
Later, she worked in the UK and Denmark, gaining experience in the emerging clinical specialties and bringing back invaluable knowledge to hospitals in Sydney. Valda subsequently established post registration nursing courses in various clinical specialties and played a significant role in the establishment of a Clinical Career Path for registered nurses.
Later on, she co-authored the book on the history of intensive care nursing in Australia.
While we could go on about her many wonderful qualities, it is her huge wisdom, practicality, no-nonsense attitude and sense of humour that we truly admire.
And it's not just us – she was acknowledged for her work during the pandemic during a Special Homelessness Sector Network Meeting in late 2020.
We are so lucky to have her. Thanks for everything you do, Valda!